Elders
James C. Fulmer
The sport of muzzleloading is blessed with many treasures; some are antique guns, but the best are the old-timers who have a lifetime of experiences to share.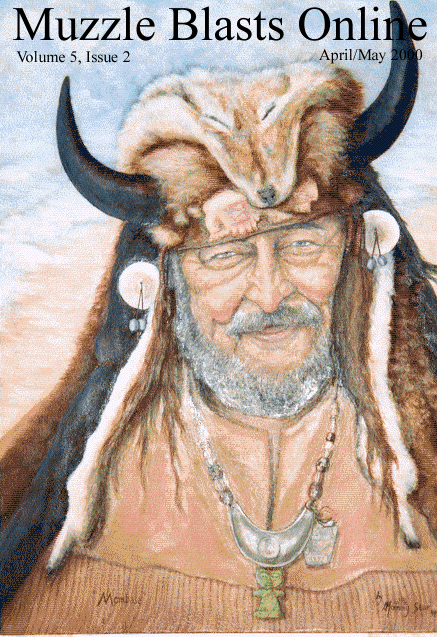 Everyone of us has had our life influenced by special people. As a young man I would always seek advice from my parents and my grandfather, who lived with us on the farm.
I moved away from the farm and to the big city when I was twenty years old. It was over a two-hour drive by car. I missed the counsel of my parents and grandparents on a daily basis, so I started to count on elders.
On the cover of this issue is a painting of Robert White. Bob passed from this life into another on July 16, 1998 at his home in Canton, Pennsylvania. If you notice in the painting he is wearing the 1993 NMLRA Eastern Primitive Rendezvous medallion. He was an avid buckskinner, and he loved black powder gatherings. He was also a dedicated member of the Whispering Pine Black Powder Club in Cherry Flat, Pennsylvania.
Bob was born in Dayton, Kentucky; he married Lucille Rockwell in the Canton Church of Christ's parsonage on September 22, 1951. He served as a Merchant Marine for thirty-seven years, and by the time he retired in 1980, he had achieved the rank of captain.
Bob was an avid outdoorsman and enjoyed fishing and hunting. He will always be remembered for the unique gifts he would make from items he had brought back from Africa over the years when he was a merchant seaman.
The oil painting of Bob White – or Mombassa, as some of his buckskinning friends knew him – was painted by Maureen Shaw. Maureen Shaw or Morning Star started the painting just before Bob's death. Her goal was to have his portrait on the cover of Muzzle Blasts magazine in his honor.
It's Bob's picture that's on the cover, but the intent is to honor all elders. After talking to Maureen Shaw and Bob's widow, Lucille, I realized we don't take enough time to stop and talk with and honor our elders. I knew Bob when he first started coming to Whispering Pines Muzzleloading Club in the early 1980s. I liked him right away. My one uncle was a merchant seaman, and Bob reminded me of him with all his stories. Bob would talk to me about his trips to Africa. He loved to talk in front of his wall tent. He asked me several times to stop by his house, and would show me some of his collection of African items picked up over his many years as a seaman.
I am ashamed to say I never took the time to stop. The first time I stopped at his house was just before I wrote this article to talk to his widow Lucille. I was amazed at all the items: the spears, the masks, the pottery. I asked Lucille about different items, and she could only say that Bob knew more about the stuff. I didn't even know Bob was a captain in the merchant marine until after his death. Why, because I didn't take the time....
The painting on this issue could be any one of the many elders, both men and women, whom we know. We all need to take time to stop, look, and listen. It is said that age doesn't necessarily bring wisdom. But it is also said that a wise man learns from other people's experiences.
There are many people I have turned to for wisdom. As a young man I wrote to a writer in this magazine who hunted squirrels with his little .32 caliber rifle. I asked about barrels and calibers, and we corresponded back and forth. Later, I was involved with a state muzzleloading newsletter. I asked the same writer if he could write a story on squirrel hunting for the newsletter. He sent me an article; enclosed with the article was a letter saying, "If you ever come to Friendship, stop by and visit." He wrote, "I am at the trailer by the stone bath house." Max Vickery was that man, and he may not know it, but he influenced me for almost thirty years with his writing.
Max is one of many elders I admire. There are many others; Skip Hamaker has helped me through my life with his experiences more than any other person on this earth. Possum Charlie, Old Man Pollock, Max, Don, Linda, Shirly, Roberta, the list goes on and on...
Time is a precious item to all of us; use it wisely, take the time to visit and talk with an elder. You will be surprised what you learn about them and yourself.
"If silence is golden, then speech is platinum. It spreads wisdom, dispels ignorance, ventilates grievances, lightens the spirits, and lessons the fundamental loneliness of the soul."
(Jan Struther, English poet).
About the Artist
Born, raised, and still living in the mountains of Pennsylvania, Morning Star did her first serious painting at the age of sixteen. Essentially a self-taught artist, she works with paint on canvas, bone, wood, antler or hide; pen and ink; and carvings and scrimshaw on wood, antler, bone, and teeth. She also creates leather work, jewelry, bead work, and and clothing. Her work usually exhibits a Native American influence, including basketry woven from willow, ash, birch, and grapevine, sometimes using bone and antler for a personal touch. Her passion for nature and wildlife is evident in all of her creations. She recently was honored with a blue ribbon over several hundred entries at an Arts and Crafts competition on Long Island, New York for a combination of scrimshaw and painting that depicts a hawk and an owl on deer antler.