Seeing Eye to Eye on Authentic Spectacles for Reenacting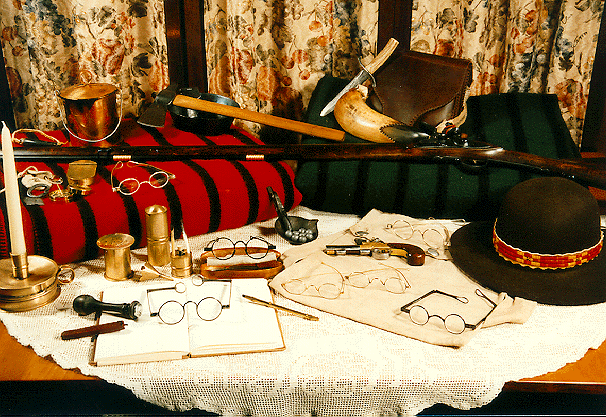 Front, left to right: Ben Franklin-style bifocals made by Dr. Ron McDaniel; 1779 reproduction from Stanley Steiner; a pair of gold mid-19th-century original frames; 18th-century reproduction from James Townsend and Son. Rear, left to right: a pair of women's sterling silver frames hand made by Dr. Ron McDaniel, and, behind the pocket pistol, the men's version.
My wife Cynthia and I stumbled upon our first Rendezvous while out backpacking in the California mountains a few years ago. We were enchanted by our first view of the Manzanita Hunting Club's event, and that enchantment remains strong to this day. Like many pilgrims, we wandered about completely in awe as we gazed upon all the tipis, wall tents, and wedges. From the blacksmith stoking his forge to the trappers in their buckskins, we thought it all quite grand! From that point on, we knew we had to learn about and get involved in this lifestyle. Though we didn't know brain-tan from chrome-tan, we thought it all looked great, with one glaring exception. We couldn't understand why folks would go to such extremes to live the life of the fur trappers and traders and then wear their own modern eyeglasses! As we looked at all that surrounded us, even with no experience to tell us why, those modern frames stuck out like a Coleman stove or electric light in the tipi would have! What was the reason that many reenactors would spend tons of time and money on their authentic period outfits and then throw mud on all they'd done by wearing modern eyeglasses? After being in the sport for a few years now, we are still amazed that so many participants ignore this very important aspect of our hobby. Please notice that I won't tell you what tent to use, debate the use of flint over percussion, or brain-tan over chrome-tan, wool or linen. These are choices we all have to make. But you are doing yourself a big disservice if you wear your modern eyeglasses with whatever else you choose to use!
| | |
| --- | --- |
| | |
| Cynthia at the writing desk, using some of Goose Bay Workshop's fine things to good advantage with the glaring error of using modern frames. | Notice how the period frames really make the difference in the authenticity of the photo. |
Upon questioning, people have given the following reasons for not going the extra mile: "Don't know where to find any period eyeglasses;" "Period frames are just too uncomfortable;" "I've got to have bifocals and they don't make any like that;" "The period frames are too expensive;" and finally, one that really gets to us, "Nobody will notice!!" Well, friends and fellows reenactors, lots of people take notice, and I'm going to poke a hole in every one of these and all other thin excuses I have heard for not using the proper spectacles! It's time for all reenactors to make the effort to get and use period eyeglasses!
A brief history of eyeglasses: The first use of spectacles was in Italy, and has been dated back to about 1287 AD. These first eyeglasses were no more than a single lens of glass held in the hand by a handle. We will limit our discussion to the 18th and 19th centuries, as these are the periods most of us are interested in reenacting. It was in the 18th century that the first practical spectacles were either hand held, tied on with cord looped over the ears, attached to weighted cords run behind the ears, or even held on by metal forehead frames that must have truly been uncomfortable! Frames were made of leather, horn, gold, silver, brass, and steel. Sometime between 1727 and 1730 a London optician named Edward Scarlett invented and promoted the use of spectacles held in place with rigid side pieces. These early examples were mostly silver, steel, or brass with round lenses and hinged side pieces with large velvet-covered rings at the ends, which pressed against the head to hold the spectacles on. As time progressed into the 19th century, oval, square, and octagonal lens shapes became popular. Lenses in different colors were thought to be of medical benefit. Green lenses were believed to help stomach problems; blue lenses for blood related diseases; and yellow lenses for poor vision. Large frames became smaller and more compact, and ear pieces lost the temple rings and went from flattened wire ends to bent spring wire at the very end of the 19th century. The modern nose piece with standoffs was also not used until the end of the 19th century. Nose pieces in the 18th and 19th centuries were "C-" or "W-" shaped "saddles" for the nose.
| | |
| --- | --- |
| | |
| The modern eyeglasses, which many people use at Rendezvous, make it look like you're just pretending to be someone from the past. | The original 19th century frames let you be the person you are trying to represent. |
Though we now dress for the 1760's, Cynthia and I started out reenacting the 1830's, and after noticing the lack of period eye wear at our first Rendezvous, we began scouring the local antique stores, flea markets, and swap meets to find spectacles that would truly look good with our outfits. In my research, I have found that the availability of period frames is not the "needle in a haystack" it's made out to be. Finding gold, silver, and steel frames was time consuming, but we found them in abundant quantities. Prices ranged from $10.00 to $60.00. We bought two pairs of gold, one in ten-carat, the other in fourteen-carat. Each pair dates from the 1830's to the 1850's, is in excellent shape, and cost us about $50.00. Our optician was able to fit our prescriptions into them easily, including my bifocals. If you want to use original frames that are guaranteed and researched, try Ed Welch's Antiques in Winslow, Maine. His prices start at $150.00, with most original frames going from between $200.00 and $500.00, and many have original cases, too.
By the way, when Ben Franklin invented bifocals, he used two separate pieces of glass in the same frame. The lower half was for reading and the upper half for distance vision. Today, if you want to approximate the same look, ask your optician for an "executive" bifocal. The line goes all the way across the lens and gives the appearance of the originals.
| | |
| --- | --- |
| | |
| Mark takes aim with his Caywood smoothbore. Too bad his modern eyeglasses will cause him to miss the authentic look! | Now Mark's aim will be true using Dr. Ron McDaniel's Ben Franklin bifocals. |
If you would rather not spend the time looking for originals, there are several sources that offer very nice reproduction period frames in any price range you might desire. James Townsend and Son offer an 18th-century frame that I own. These are copies of original frames in their collection and are very nicely done. The black frames have round lenses and are more comfortable than many, as the ear pieces are longer, double hinged, and have temple loops. These frames have recently dropped in price from $80.00 to $48.00 and are very good choice for the 18th century reenactor. Another similar frame is available from Eye Wear Unlimited. Stanley Steiner offers a nice reproduction based on a pair dating from 1789. These are light and comfortable and have built-in nose pieces. The black frames feature round lenses, slightly larger than the James Townsend model, and temple rings. For $55.00, these frames would be just right for this time period. For the "no-compromise" reenactor, I found a source for hand made, sterling silver 18th century frames. Dr. Ron McDaniel of Rendezview Eyewear, will make you a pair of spectacles that will be an outstanding addition to your outfit! Because they are hand made of precious metal, these frames will cost more than the others, and you will have to wait a short time for them to be made. But if you want the very best thing next to an original pair, you will find what you want in Doc Ron's hand work. Most of these sources also list at least one pair of 19th century frames. Whatever you need, you will find it in the above-named sources.
So, my fellow reenactors, now what are your excuses for not looking your best? Now you know where to locate whatever type and style of frames you need. Though the original period frames are a bit small for our modern faces and can be slightly uncomfortable, they can be made usable by adding velvet covers, or brain-tan buckskin thongs to cushion and hold them on. All the reproduction frames I have seen are just fine as they are, though you can add ribbon, velvet, or thong to make them period correct. Those of us who need bifocals can now have them installed authentically in our period frames. And for those who fear that they will have trouble using them with their firearms, I have absolutely no problem shooting rifles, pistols, smoothbores, or shotguns with any of the three pairs of period spectacles that I own! Price can no longer be a stumbling block to acquiring a pair of authentic frames. As you have seen, there are frames that fit even the tightest budget, though you will have to spend some shoe leather to find the absolute cheap buys.
Finally, let me put to rest the argument that "Nobody will notice." Look at the accompanying photos and tell my you think that period spectacles don't make a big difference. Let me guarantee you one other thing, my friends: once you are behind those period lenses, your entire outfit and the rendezvous or event you're attending will look 100% better to the one who matters most...YOU! I've slapped you in the face with the glove. Go ahead. Try to prove me wrong! Once you take this overlooked but very vital step, you will wonder why it took you so long!. Here's looking at you, kids!
For more information about period spectacles or to purchase from those sources I've mentioned:
Fashions in Eyeglasses, by Richard Corson, Published 1967 by Peter Owen, London. (out of print, but I found a copy through Amazon.com on the Internet)
Early American Specs, by Dr. L.D. Bronson, Published 1974 by Occidental (out of print; I borrowed a copy from a friend)
James Townsend and Son, Inc., 133 North First Street, P.O. Box 415, Pierceton, IN 46562 (order number: 1-800-338-1665) (18th and 19th century period frames, plus a tin eyeglass case)
Eye Wear Unlimited, Stanley A. Steiner, 816 N. Baldwin, Marion, IN 46952 (765) 664-6848. (18th century frames and lots of 19th-century styles, some with more modern and comfortable ear pieces, also some period eyeglass cases)
Rendezview Eyewear, Dr. Ron McDaniel, P.O. Box 200, Shelbyville, IN 46176 (317) 398-0305. (hand made 18th- century silver spectacles...worth the price and the wait!)
Ed Welch's Antiques, RR 3 Box 1290, Winslow, ME 04901 (207) 872-5849. Email: metiques@mint.net (a fine collection of original period eyeglasses from the 18th and 19th centuries, some with colored lenses, to cure what ails ya, and many with cases).