Those Old Black Pots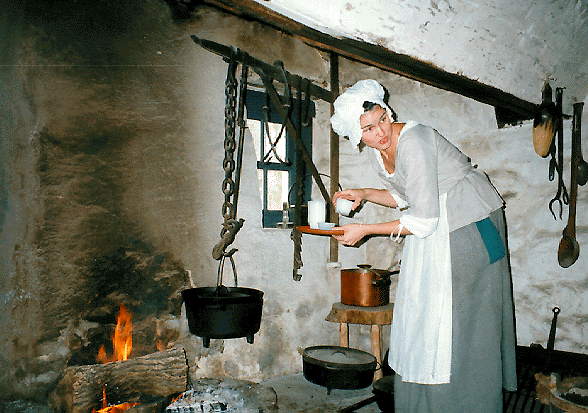 Early well-to-do settlers built their kitchens in the basements of their homes. This was for fire protection and also to keep the heat from cooking out of the living quarters in the hot summers.
More years ago than I'd care to acknowledge, my grandfather came to me on my wedding day and said he wanted to give me something special. He said we'd get plenty of toasters and irons, and he wanted to give us something that would last for a long time and would remind us of our family traditions. He gave us a Dutch oven. He said it was kind of like a marriage; if you took care of it, it would last forever. Thus began my lifelong interest in "Those Old Black Pots.''
Some of my fondest memories growing up were family outings and camping trips when Dad or Grandpa would prepare a meal in the Dutch oven. It might be chicken or a roast, or sometimes they'd get a little creative and you were afraid to ask what you were eating. But it was always good. Until I became the owner of my own "Black Pot," I never had much interest in what went into it or how it was cooked; I was interested only in what came out of it! As I got older and my interests turned to muzzleloaders and buckskinning, the Dutch oven became as much a part of my gear as my rifle and lodge.
Cast iron cooking pots date back many centuries in Europe and were brought over to the new world by the early settlers. How they became known as Dutch ovens is part of our history and lore; and like so many other historical stories, there's always more than one version to the story. One version attributes the name to the Dutch traders that carried them with their trading goods as they went from homestead to homestead in the new land. Another popular story attributes the name to the "Dutch Amish" who brought their cooking pots over with them to their new home. Actually the "Dutch Amish" weren't Dutch. Most of them were from Germany, and when they were asked their nationality upon their arrival, they replied "Deutsch" which means German. But it sounded like Dutch, and that is what they were called--hence we have the Dutch Amish.
Most of the old-world cast iron pots were round-bottomed cookware that was suspended over a fire or hearth, and the height above the coals regulated the heat for cooking. This limited the types of meals that could be prepared. Most of them were versions of soups or beans because the cooking was done from the bottom only. Another piece of history claims that Paul Revere, of the famous "One if by sea and two if by land" ride, who was already a well known silversmith, created a Dutch oven with a flat lid and with three legs. This allowed for coals to be placed on the lid so that cooking could be accomplished from both the top and bottom, and the legs gave you the option of cooking directly over the coals in lieu of suspending the pot.
Lewis and Clark carried seven cast iron pots with them to the Pacific Ocean. With all of the concerns they had regarding the weight of their baggage and items that had to be toted up the Missouri and over the Rocky Mountains, this gives you an indication of the importance that they placed on these cooking utensils. Upon their return from the winter encampment at Fort Clatsop near the Columbia River, they found themselves running short on trading goods and hesitantly parted with several of their cast iron pots. The Indians recognized the advantages of them over their existing cookware, rocks and baskets.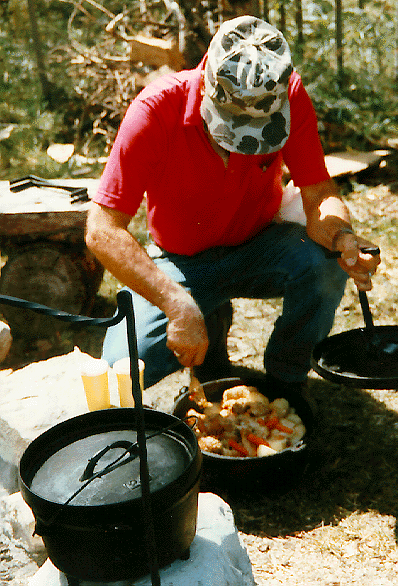 The author's father, Mondell, is preparing a Duch oven dinner for a family gathering. You can almost smell the food just from looking at it.
Trappers considered the cast iron pot almost as essential as their rifle and traps. Journals show that most of them carried at least one with their gear. Records from the rendezvous show that they were a popular trading item for both the trappers and the Indians who came to exchange their goods. In the late 1800's during the large cattle drives, the chuckwagon always had a plentiful supply of Dutch ovens for Cookie to prepare meals for the large crew of cowboys. Today, the Dutch oven is a common sight at muzzleloading activities and at hunting camps.
The meals that are prepared today include the old favorites and some that would do credit to the fanciest New York chef. It's easy to get started, as there are several reputable manufacturers of Dutch ovens on the market and most sporting goods dealers have them available. A good size to start with (most folks eventually end up with more than one Dutch oven once they get started) is a twelve-inch. This will hold several chickens and all the fixin's to feed a family and a few friends. You need to look at different styles available. A twelve-inch Dutch oven has a capacity of about six quarts, but occasionally you'll find a ten-inch Dutch oven that is deeper and has about the same capacity. Personally, I like a twelve-to fourteen-inch Dutch oven that has about a five- or six-inch side wall such as manufactured under the "Lodge" brand. Another strong recommendation is to go with the flat lid and raised legs; the older-style rounded pots may look nice suspended over the fire, but they limit your cooking options. The flat Dutch oven can be used either directly over the coals or suspended. The flat lid allows you to place coals on the top and cook from both above and below, which is very important when cooking breads or biscuits. There are other types of Dutch ovens on the market made out of aluminum, or of a square configuration; used properly these will work very well, but they just don't have the "Old Black Pot" look that I like. Besides, an aluminum pot just looks out of place in front of the lodge!
One of the first things you need to do with a new Dutch oven is to season it. This removes any preservatives that the manufacturer may have applied during shipping and storage, and prepares your Dutch oven for a lifetime of rust-free use if proper care is taken. Seasoning usually involves heating the Dutch oven up and coating it with cooking oil. Follow the manufacturer's recommendations and you can't go wrong. After proper seasoning, when the meal is done, all you have to do is remove any leftover food (usually there isn't much left around our house), heat the Dutch oven up, remove any remaining residue, and reapply a coating of oil.
There are many good cookbooks available on the market. My favorite is the Dutch Oven Cookbook put out by Twin-K Enterprises. They also provide a complete line of accessories that will aid in cooking and in storing your Dutch oven. Write them at P.O. Box 4023, Logan, Utah 84323-4023 and request a copy of their flyer; tell them that Tim sent you.
The first meal most people start out with is the old standby, chicken and vegetables. One of the most important things to remember when cooking meals is to cook slowly and keep a small amount of moisture in the pot. You can cook over coals from a camp fire or with charcoal briquettes. Briquettes are good to start with because they are easier to add or remove to control the temperature. With practice you will be able to do the same with coals. Whichever method you prefer, make sure you have an ample supply of heat to cook the meal. You may have to keep replenishing your coals or briquettes as you cook to insure you always have some available. Prepare your chicken and vegetables in advance. Skin and wash the chicken, throw it into a bag with some flour, salt, and pepper, shaking it until all the parts are coated. Peel and wash some carrots, onions, and potatoes. Slice them into pieces and set them aside; I usually cut the potatoes into halves or thirds. Put approximately 1/2 cup of oil in bottom of the pot and heat it up; check it until it's warm enough to brown the chicken, and then carefully place all of the pieces in and brown all over. As soon as the chicken is browned, add the vegetables and cover the pot. Place the pot on a small bed of coals, stir the contents every ten to fifteen minutes to insure that the bottom isn't getting too hot and burning the contents. Adding coals underneath or setting the Dutch oven off to the side for a few minutes is an effective way to control the temperature. After about an hour it should be ready to eat; don't be surprised if the smell has already attracted a crowd when you remove the lid to stir the pot.
Your imagination will be the only limitation as to what you can cook in your Dutch oven. As you gain confidence in your abilities, you can venture into different dishes with meats, vegetables, breads, desserts, and other delights. I remember going deer hunting with my dad and his uncles when I was about nine years old; they had been hunting for several days and just kept adding to the pot at each meal! It had breakfast, lunches, and dinners all stirred together; it tasted a lot better than it sounds. I've visited several Dutch oven cooking competitions. It is amazing some of the meals that can be prepared, but this is where you need more than just one Dutch oven. Don't say I didn't warn you.
Oh yeah, that "Old Black Pot" my grandfather gave us for a wedding present--I still have it, and the same wife too. Some things do last forever. Thanks, Grandpa!