High Plains Jaunt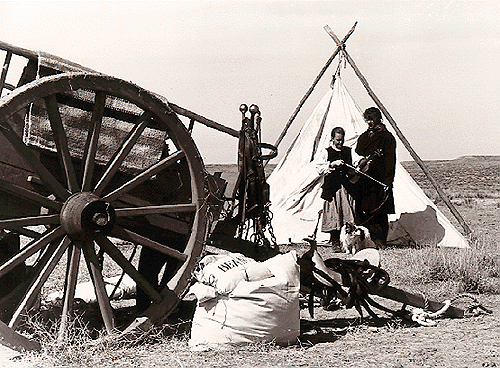 Playing with my Dad's fiddle at Antelope Flats. A close-up of our cart. Our dog Jeb is at our feet
The dead salamander kept slipping off my shovel. He was in the water, so I tried not to splash any on my ankle-length skirt since I'd have to wear it again tomorrow. Oh well, the salamander would have to stay there for now since Mom needed my help. I ran back across the sagebrush to our camp on Antelope Flats. On the way I passed my horse Baasil who was on the pickett line eating, with our cart horse Ashley. I gave them both a hug and went back to the fire where supper was cooking. I asked Mom what she wanted and she told me she needed the tin pot for hot chocolate. I hopped up into the trader's cart, found it, and handed it to my mother. Mom said I should take time to write in my journal, so I did.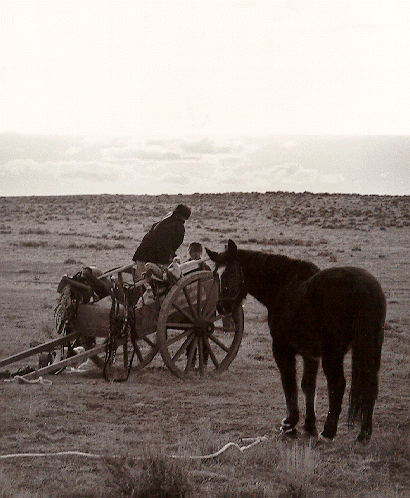 One of my favorite pictures of my horse Baasil. I'm in the cart handing Mom supplies
March, Antelope Flats
"Today we traveled to Antelope Flats. Mom and Dad rode in the cart, but I rode my horse Baasil. When we got there we saw a lot of Antelope, so I think it has a nice name. I found a dead salamander I named Sally. There were wiggling worms in the water hole too. They were really small though. The pond still has ice on it, so I tried chopping it up with the shovel and throwing rocks on it. Ashely ran away in his hobbles! We caught him, luckily, because he's our only way home. I got prickly pear prickles in my hand. I'll write some more tonight."
I know this sounds like 1845 but it's really the 1990's. My family was camped in West Central Wyoming, south of the Owl Creek Mountains. We wanted to recreate the past. We were doing this for fun and also because my Dad is an artist who paints the 1800's. He was trying to gather experience for his paintings.
I was only eleven years old on that trip and now that I'm twelve I have several of these adventures behind me. I like history like my Dad; and like my Mom, I love our pets. On our trip we took our small dog Jeb, my old horse, Baasil, and our Appaloosa, Ashley. I thought small dogs weren't very accurate for the period but Dad told me a story about a fur trader on the Columbia River who threatened to start a war when the Indians stole his small pet dog! There was a lot I didn't know before I took this trip but now I know how to do many things related to trips like this one.
Dad and I had to make the cart. The wheels on the cart are almost five feet tall. Our cart is of similar construction to the type the Metis (ma-tee) Indians were using on the Red River. Carts like ours were used in France in the 18th century. They were used in Fort Union during the fur trade era. In the later years people would collect buffalo bones to ship back east for fertilizer in this style of cart. Some of the earliest missionaries came west in carts. While guns improved with technology from flintlock to percussion, to buffalo rifles, to lever actions, the cart had barely changed at all.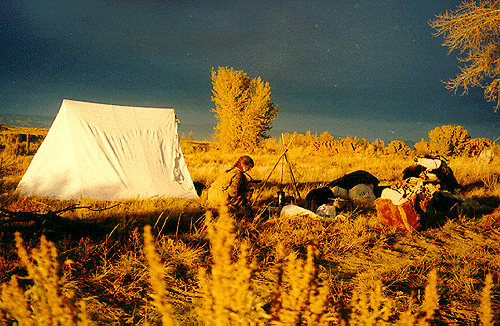 Mom cooking supper at our camp in Antelope Flats
Our harness is like the set Kurz drew in 1851. It fits our pulling horse perfectly. Also important is that the draft horses are too big for what they had back then, so Dad had to buy a smaller horse and train it himself. It took weeks to train the horse. We had to make sure everything was working properly. We use what people today call a miner's tent. Back then it was just a tent. It is pyramid shaped and easy to put up. We could choose two poles on the outside to hold it up, or one pole on the inside. We chose two outside poles. After this trip we decided to use a wedge tent.
Mom and I wear ankle-length skirts, chemises, and bodices. Dad wears a calico printed shirt, long pants, felt hat, a coat like a trader would have worn, and a neck scarf. We had to make sure we had extra clothes and really warm gear in case it got cold.
We had flint and steel to make a fire to cook over and durable cooking supplies. The cooking ware was mainly tin. We used dried goods for food so it would keep and not rot. These supplies will serve for future trips too.
It was hard getting everything ready, but it was interesting too. I felt like I was getting ready for a six-month journey on the Oregon Trail!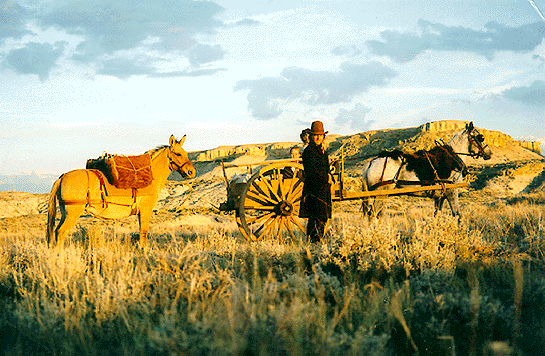 My family, and our mule Scarlett (back) and our cart horse Ashley (front)
I live near the 1838 Rendezvous Site in Riverton, Wyoming. It is only a few miles from my house. Quite a few famous mountain men went to that rendezvous. Jim Bridger, Tom Fitzpatrick, and William Drummond Stuart were some of them. Twenty carts like ours supplied the rendezvous. From my house I can see the Wild River Mountain Range where many mountain men trapped.
Bonneville Cabins is south of us. Captain Bonneville built these to trade with the Indians. We are surrounded by the Wind River Indian Reservation. The land we camped on was traded to the whites for irrigation rights. The reservation is the home of the Arapaho and Shoshone tribes. That brings me to the story of Tom Fitzpatrick. He found an Indian boy on an abandoned Arapaho camp. He named him Friday. He took Friday to Missouri and gave him an education and loved him like his own. They came through this area many years later and an old Arapaho woman recognized Friday as her son. To this day many Indians who live near us have last names that are Friday.
At Fort Washakie there is a monument for Sacajewea saying she died there. No one knows for sure where she died, but she was a Shoshone Indian.
Evening came and I wrote in my journal:
March Antelope Flats

"The mountains were very purple in the evening, then the sun went down and we sat under the stars sipping hot chocolate and saw the Hale-Bopp Comet. No houses or telephone poles in the way. It was beautiful. Dad played the fiddle by the fire. Many fun things happened this afternoon. I played with Jeb.

--Shawnee Teter"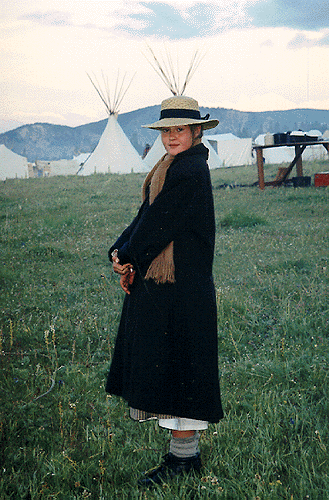 The author at the Western Rendezvous
We heard coyotes in the distance. Is was a nice end to a long day. It felt good to sleep that night. The next morning we woke up and had a nice breakfast of summer sausage and biscuits. We packed everything and headed off. We left the Antelope to play. Dad said he would have shot one, but it was the wrong season. It was windy as we traveled so we didn't talk much. That left us to ponder our adventures.