J.A. Maltby
Gunmaker-Galena, Illinois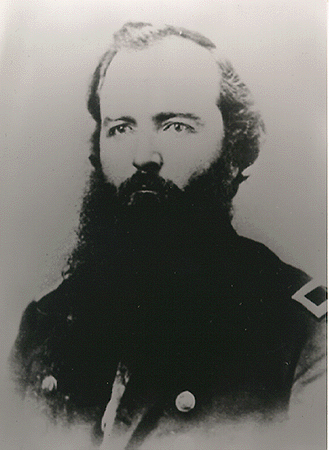 J. A. Maltby
Maltby rifles to be on display
The four Maltby rifles described in this article will be among over sixty Illinois-made firearms to be the featured exhibit at the Museum of the NMLRA during the National Championship Shoot June 13-20, 1998, at the Walter Cline Range, in Friendship, Indiana. The exhibit, entitled HISTORIC ILLINOIS GUNS will be in the historic Rand House and will be open from 1-3 p.m. CDT each day during the shoot. For further information contact Curt Johnson at (815) 699-7790.
Anyone who has visited the picturesque Northwestern Illinois town of Galena has quite likely sensed the rich history surrounding this community. Built on the steep, rocky hills of Jo Daviess County, the city derives its name from the lead ore which drew miners from near and far during the 1820's. Situated on the Galena River (originally called "Fever River") only about three miles above the Mississippi, Galena became a boom town almost overnight and was a thriving center of commerce in 1831 when the Black Hawk War broke out. At least two gunsmiths, Dudley Simmons and John Baptiste LeBeau were working in Galena by 1830.
By 1850 Galena was a very prosperous community, the home of wealthy mine owners, steamboat captains, merchants, manufacturers, and tradesmen of all descriptions. At least eighteen gunsmiths worked in Galena during the 1850's. The most prominent among them was J.A. Maltby.
Born in Kingsville, Ashtabula County, Ohio on November 3, 1826, Jasper Adalmon Maltby is believed to have learned the gunsmith's trade in his native state, although from whom remains a mystery. He served in the Mexican War as a member of the 15th U.S. Infantry and was severely wounded at the battle of Chapultepec. He was mustered out August 3, 1848.
Maltby first appears in Galena, Illinois in the 1850 census, which lists him as a twenty-four-year-old gunsmith born in Ohio. He was at that time a single man.
H.H. Houghton & Co.'s "Galena City Directory" of 1854 lists J.A. Maltby as a gunsmith at 184 Main Street. This ad appears in that directory:
J.A. Maltby, Gunmaker, Main Street Galena
Improved Gain Twist Target Rifles, with or without Patent Muzzles, Telescopes, Ball Starts, Swedges, Slug Moulds, & c. Sporting Rifles of every description, Double Rifles, Double Rifle and Shot, Single and Double Shotguns, Rifle Barrels, Revolvers, Single and Double Pistols, Powder Flasks, Shot Pouches, Game Bags, and every article in the Sporting line.
Gun repairing done promptly and warranted.
Maltby apparently prospered in business. The 1860 census lists him again as a gunsmith, with real estate valued at $2,000 and personal estate worth $5,000. This would have made him well-to-do by 1860 standards.
The 1860 census also lists him with a wife Malvina, aged 26, born in Massachusetts, and a son, Henry, age 5, born in Illinois.
With his Mexican War experience and his knowledge of weaponry, it is not surprising that when an increasingly divided nation erupted in Civil War, Maltby promptly responded. He enlisted in the 45th Illinois Volunteer Infantry and was appointed its lieutenant colonel on December 26, 1861. The 45th Illinois, under Colonel John E. Smith, took part in Grant's campaigns against Fort Henry and Fort Donelson. Jasper Maltby was disabled for a time by a leg wound received at Fort Donelson. On November 29, 1862 Maltby became colonel of the 45th after Col. John E. Smith was promoted. Maltby so distinguished himself during the Vicksburg Campaign that his command was chosen for the post of honor after occupation of that city. On August 4, 1863, Maltby was promoted to Brigadier General, making him one of nine Union generals (including Ulysses S. Grant) from Galena, Illinois. His brigade, henceforth known as Maltby's Brigade, was thereafter stationed in or near Vicksburg, much of the time serving as garrison of the post. After the war's end, in June of 1865, Maltby was appointed military commander of a district encompassing several counties in Mississippi. He continued to serve in that capacity until he was mustered out of the service on January 15, 1866.
Maltby remained in Vicksburg and engaged in "mercantile pursuits" but is not believed to have worked at the gunsmith's trade there. He still owned a home in Galena but returned to that city only to visit. In September of 1867 he was appointed Mayor of Vicksburg, but only three months later he died of yellow fever. His death occurred on December 12, 1867. His body was subsequently returned to Galena and is buried there in Greenwood Cemetery.
During his working period as a gunmaker in Galena, Maltby produced a number of heavy, large-caliber percussion Plains Rifles intended for the West. Most, though not all, rifles made by Maltby are serial numbered, the lowest number observed being 59, and the highest Number 309. All are of excellent workmanship, but the higher-numbered rifles are a bit more refined. Barrels are stamped "J.A. MALTBY GALENA" followed by the serial number. He used both walnut and maple for his stocks.

Rifle No. 59
Rifle No. 59
is a maple half stock with back-action lock, brass mountings, and double-set triggers. The key escutcheons and an eagle inlay on the cheek side of the buttstock are silver. The nosecap is pewter. The barrel is 32 inches long, 1 5/16 inches across the flats, and is approximately .54 caliber with six- groove rifling. This is the same rifle described in Charles E. Hanson, Jr.'s book
The Plains Rifle
on page 89.

Rifle No. 150
Rifle No. 150
is a maple half stock with front-action side lock, brass mountings, and double-set triggers. Key escutcheons and a small squirrel inlay on the cheek side of buttstock are silver. The nosecap is pewter. The 29- inch barrel is 1 3/8 inches across the flats at breech, 1 5/16 inches at muzzle, and is .44 caliber with six-groove rifling.

Rifle No. 187
Rifle No. 187
is a walnut half stock with front-action side lock, brass mountings, and double-set triggers. Key escutcheons are silver. The nose cap is pewter. The 33-inch barrel is 1 5/16 inches across the flats at the breech and 1 1/4 inches at the muzzle. It is .54 caliber with eight-groove rifling.

Rifle No. 209
Rifle No. 209
is a light target rifle with bird's eye maple half stock. It has a Wesley bar lock and patent breech. Butt and toe plates, trigger guard, sideplate, and ramrod entry pipe are steel. The capbox, barrel key escutcheons, and an eagle inlay on the cheek side of the buttstock are of German silver. The nosecap is pewter. A folding peep sight with a separate adjustable screw for elevations is mounted on the 5½-inch tang. It also has a 5½-inch elevation-adjustable open sight on the barrel. The barrel is thirty inches long, including the patent breech, and is 1 1/16 inches across the flats. It is .34 caliber with six-groove rifling, and it appears to be gain twist. The muzzle is lathe-turned for a guide bullet starter to facilitate the use of a picket bullet.
Shotguns bearing Maltby's name were generally not made by him but were English imports. This ad, found in the Warren Independent, Warren, Jo Daviess County, Illinois, June 3, 1859, refers to shotguns sold through Maltby's shop, made by W.J. King, a London maker.
Removal Sportsmen's Depot Has been removed to 184 Main Street 184
Galena-Illinois J.A. Maltby
Importer, manufacturer, and dealer in Shotguns, Rifles, Colt's and other Pistols, Bowie Knives, fine pocket cutlery, Powder Flasks, Shot Pouches, Game Bags, Drahm Flasks, Ely's and Balding's Wads, Ely's and other Caps, together with every other article in the gun trade.
Just received from the justly celebrated maker, W.J. King 220 Picadilly, London, 200 double and single guns of every variety of length, bore and quality for every kind of shooting.
100 doz. Powder Flasks, from Hawksley's Sheffield, 50 doz. Powder Flasks, from other makers. 50 Shot Pouches and Belts. 90 Patterns Pocket Cutlery-Hawksley's. 30 Patterns Bowie Knives. 50 gro. Ely's wire Cartridges Ass'd. 500 M do. Double Water Proof and Foil Lined Caps. 500 M Gun Waddings, & C. & C.
With a great variety of every article in the sporting line. Sportsmen, merchants, gunmakers, and dealers are respectfully invited to call and see how astonishingly low goods will be bought, can be sold.
Guns made or imported to order--Repairing done as usual.
A percussion double shotgun which seems to match this advertisement is marked on the rib "MANUFACTURED EXPRESSLY FOR J.A. MALTBY GALENA ILLS." The back action locks are marked, "W.J. KING." The barrels are approximately 20-gauge, 39 inches long, and double keyed to the fore end.
Other items marked with Maltby's name stamp include bullet molds and cappers. Some of the molds were no doubt made in his shop, probably to go with a new rifle. Others, such as a brass Colt mold in .36 caliber and stamped "J.A. MALTBY GALENA" were simply sold through his shop. Don't miss this display at the NMLRA Museum during the June Championship Shoot at Friendship, Indiana.