Jonathan Browning, Mormon Gunsmith
The Browning name has been synonymous with creative gunsmithing for generations. From the repeating rifle to the automatic rifle and the MM. Aircraft cannon, the Browning Arms Company has distinguished itself in armaments for nearly 120 years. The family tradition of creating exceptional firearms began with Jonathan Browning, the inventor of a repeating rifle.1 Family records and surviving guns evidence his unique gift as an inventive gunsmith.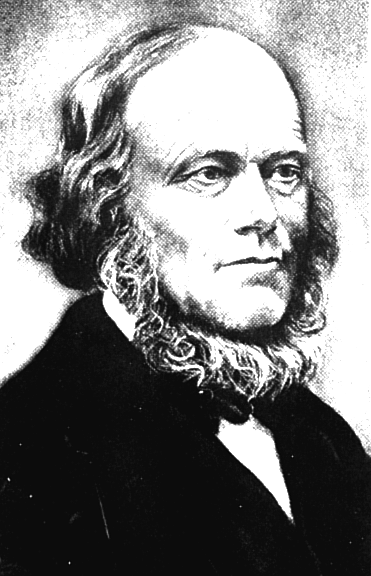 Johnathan Browning
Jonathan Browning was born and reared in rural Brushy Fork, Tennessee, in the early nineteenth century, amid scattered, nearly starving farmers.
2
Observing his father's struggle to reap a harvest from the rocky hillside led him to conclude he never wanted to be a farmer. But what else could he do? Brushy Fork was a community in name only and lacked even a school house and a church. Employment opportunities were few and a career other than farming seemed impossible.
However, in his early teens a challenging opportunity presented itself when a neighbor discarded an unusable flintlock rifle. Even though the gun was missing parts and the lock was broken, Jonathan offered to work for one week for the neighbor in exchange for the discarded rifle. He later claimed that week was the only enthusiastic farming he ever did. Jonathan took the gun home and made the missing parts, repaired it, and then sold it to the neighbor for four dollars.3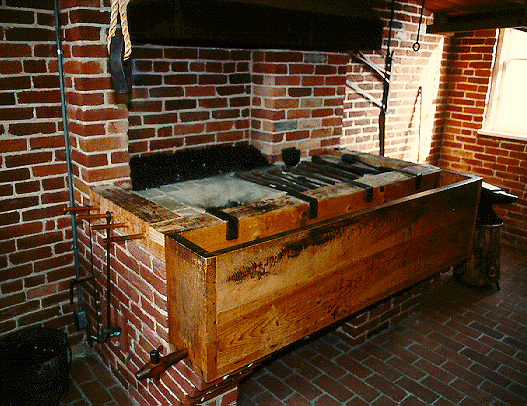 Browning Blacksmiths Hearth
As word spread of his mechanical ability he was invited to be an apprentice to a blacksmith. During the next few years he learned the fundamentals of hand-forging, welding, brazing, tempering, and soldering. By age 19, six feet, well-muscled Jonathan thought himself a competent gun maker, even though he had never met a gunsmith. However, his confidence waned when he saw a rifle made by a real gunsmith stamped ``Samuel Parker-Nashville.''
4
Anxious to learn from a master craftsman, he borrowed his father's horse, rode thirty miles to Nashville, and convinced Mr. Parker to apprentice him without pay. After three months of apprenticeship the former tinkerer Jonathan Browning had mastered the trade.
When Mr. Parker offered a partnership in his business, Jonathan refused, as he envisioned himself a successful gunsmith in Brushy Fork with his own shop. He returned home to the rural countryside, married his sweetheart Elizabeth Stalcup, and began a successful gun business.5 His success in Tennessee ended when reports circulated in the community of limitless land, free for the taking in frontier Illinois.6 One by one his customers and then family members joined the westward migration to Illinois; and finally 28 year old Jonathan closed his shop, loaded two wagons and moved his supplies and family about 400 miles to Quincy, Illinois.
Quincy, favorably located on the Mississippi River, was a small but flourishing abolitionist frontier town in 1834. Newcomers were heartily welcomed and the Brownings from Tennessee quickly made new friends and acquaintances who were anxious to barter for the talents of the young gunsmith. His shop was an immediate success and he delighted in repairing lock, stock, and barrel. However, he wanted more from his business. He wanted to create new firearms.
Living at the time when flintlock guns were being eclipsed by the invention of the percussion cap and pre-loaded paper cartridges, Jonathan believed a multi-shot gun was possible and went to work to make his dream a reality. Although confined to a small shop, using his forge, anvil, vise, foot lathe, and hand tools that littered his bench, he invented a simple, practical repeating rifle and a six-shot repeater. Today these guns are a curio, but in the 1830s their continuous fire was unequaled by any contemporary gun found along the frontier of Illinois.7
The repeating rifle had a number of ingenious features that became the trademark of Browning firearms. The most notable features were simplicity and operating ease. The rifle's five-shot magazine had a rectangular iron bar with holes fitted to accommodate the hand loads. The bar slid through an aperture at the breech and was manually operated, permitting loading in advance for five comparatively fast shots. The six-shot repeater operated by loading the powder and ball into the cylinder and placing a cap onto each nipple. The rifle was cocked by drawing back the hammer and then manually rotating the cylinder after each shot.
These inventions brought considerable local fame to Browning and orders for many guns.8 As Jonathan was energetic, his business thrived as he personally customized each lock, stock, and barrel for the buyers. Although the lands and grooves were cleanly cut and the locks worked smoothly, hammer marks from his hours of pounding can still be seen on the rifles he made. These guns show his partiality to the octagon gun barrel. It is estimated that each gun took Jonathan two weeks to create from start to finish. He worked hour after hour to make just one gun and then bartered or sold it for a mere twenty-four dollars.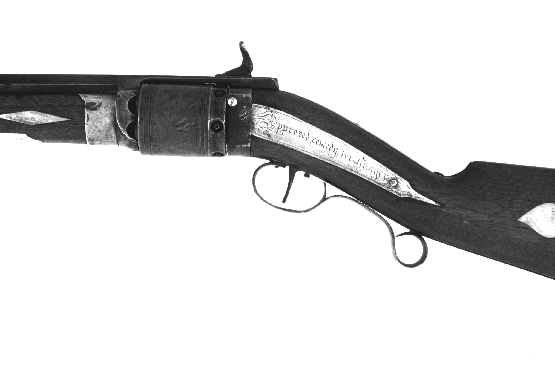 This Revolving Repeating Rifle is one of many guns on display at the restored Jonathan Browning gun shop in Nauvoo, Illinois.
Nevertheless, the repeating rifle and six-shot repeater brought him instant local prominence. Jonathan enjoyed moving in the social circles of Quincy and having his opinion valued on almost any subject. He was elected by his constituents to the office of justice of the peace and relished being called Judge Browning. This position put him in contact with young lawyers, including Abraham Lincoln, who stayed overnight at his home on at least two occasions.
On one occasion Lincoln said, Judge, somebody told me that a youngster in the neighborhood broke his arm yesterday and you set it. Do you fix anything that breaks--plow, gun, bone? Jonathan laughed and nodded. It's a fine life you're leading here, judge, mending anything that breaks. Looks funny at first glimpse to see a man welding a broken gun part for a farmer one day and the next day setting a bone for the farmer's son. Jonathan replied, Bonesetting's a lot easier. Nature does most of that welding. But if it's two pieces of iron, you've got to blow up the forge and pound. Nature won't help with that.9
His position as judge also brought him into contact with exiled Mormons who were daily arriving in Quincy in the winter of 1839 from Missouri. These exiles had been subjected to an Extermination Order issued by the Missouri governor stating that The Mormons must be treated as enemies and must be exterminated or driven from the state.10 Curious about Mormonism and his Mormon neighbors who were settling 43 miles north of Quince in the dismal swamp they called Nauvoo, Jonathan boarded a steamboat to venture up river.
His meeting of the Mormon Prophet Joseph Smith led to his conversion to Mormonism. The reputation he had enjoyed in Quince took a dramatic turn for the worse when news reached the community that Jonathan Browning was now a Mormon. Neighbors shunned the judge and his family, who felt ostracized by those they had once called friends. Seeking happiness with friends in his new faith, Jonathan sold his gun shop and home in Quince and moved to Nauvoo. He purchased a half-lot on the east side of Main Street, where he and his family, including his wife and nine children, lived in a two-room log cabin until their brick house was built.11
During his six years of residence in Nauvoo, Jonathan was the famed gunsmith of Main Street. He made one rifle after another for his customers, always experimenting with improving mechanisms for the firearms. However, the most unique feature of his Nauvoo guns was an engraved plate on the stock reading ``Holiness to the Lord - Our Preservation''12 Acquiring one of these valued antique guns today would be a great treasure for any collector.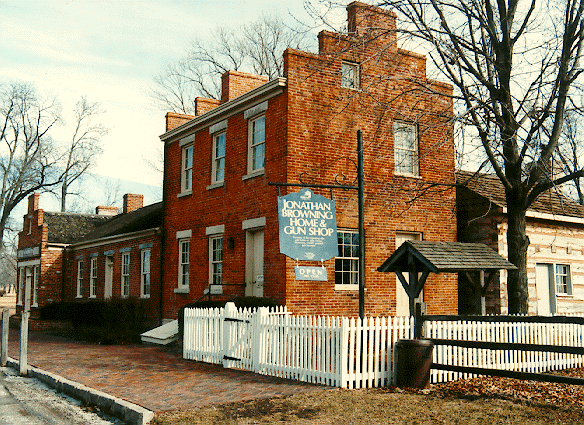 In the 1970s, Jonathan Browning's Nauvoo home and gunshop was authentically restored to its original 1840s architectural design.
When friction ignited between the Mormons and their near neighbors in 1846, Jonathan did not react by loading his gun and retaliating. Instead, he and his family followed the counsel of Brigham Young and fled from Nauvoo, willingly abandoning their property without recompense. He merely closed his shop and took his tools with him across the Mississippi River. He trekked through marshy loess hills of Iowa with other Mormon refugees, enduring the pains and sufferings of the wintry days and the chilling nights. Yet he did not turn back to Illinois. He forged on to the Missouri River and settled temporarily in Council Bluffs.
When the Mormon Battalion was being mustered into the United States Army in 1846 to fight in the War with Mexico, Jonathan wanted to volunteer and lined up with the other recruits. Brigham Young took him by the arm and led him aside, saying, ``Brother Jonathan, we need you here.''13 Bringham wanted him to stay behind in Iowa to make and repair the guns necessary for the migrating pioneers. Jonathan's advertisement in the local Frontier Guardian newspaper read: ``Improved Fire-arms revolving rifles and pistols ; also slide guns, from 5 to 25 shooters. All on an improved plan.''14 It is estimated that he made 400 guns.
It was not until 1852 that Jonathan was invited by Mormon Church leaders to continue his journey to the West. He left his gunsmithing in Iowa and trekked to the Rocky Mountains as a captain of one of the pioneering companies. He arrived in the Salt Lake Valley with six wagons and nearly six hundred dollars cash, carefully hidden beneath a false bottom in a flour barrel. With that money he was able to start his business ventures again and was soon considered a prosperous Mormon.
Jonathan settled with his family in Ogden, Utah, where he once again opened a gunsmith shop. Unfortunately, he never made another gun. His famous son John M. Browning, credited with over 120 patents for firearms, worked with his father in the gunshop.15 He said, ``We ridiculed some of the guns we fixed, and I damned some of them when Pappy wasn't near, but it never occurred to us to make better ones. He was too old, and I was too young. ``Died of weariness,'' his son John said. ``He had worked so hard that, finally tired out, he went to sleep and didn't wake up.''16
For nearly one hundred years the contributions of Jonathan Browning were extolled in family circles, and a few of his innovative guns were displayed in the Browning Armory. In the 1970s his descendants decided to acknowledge his life and contributions in a more public manner. Knowing that old Nauvoo was being restored to its 1840 grandeur and that thousands of tourists were enjoying the free demonstrations given by volunteer brick makers, blacksmiths, potter, wheelwrights, and other craftsman, they decided to finance the authentic restoration of Jonathan Browning's Nauvoo home and gunshop.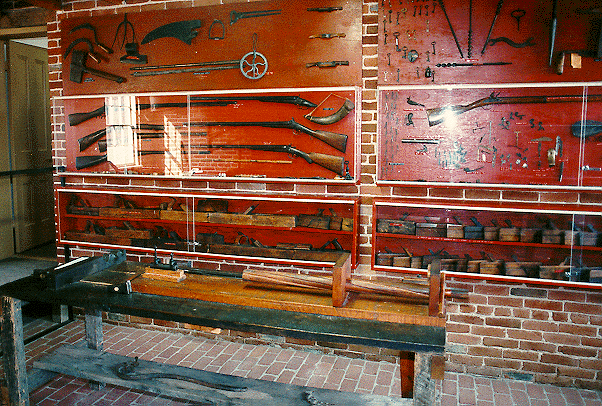 Inside the brick structure are a number of guns made by Jonathan and four generations of his posterity.
The two-story brick structure was restored to its original 1840s architectural design. Even the block house that he and his family first lived in was restored in historic detail with rope beds, barrels, and candles. Most visitors believe that the Browning reconstruction is one of the finest additions to Old Nauvoo. Inside the brick structure are a number of guns made by Jonathan and four generations of his posterity. The visitor can view the slide or harmonica gun, the forerunner of the repeating rifle, and a 44 caliber pistol, just to name a few. Replica forge, bellows, tools and equipment like those used by Browning to fashion guns are also displayed. Live demonstrations of rifling a gun barrel, using the forge, the hammering process, and heat-treating a rod are highlights in each presentation.
If you haven't toured the restored Jonathan Browning gun shop in Nauvoo, Illinois, make plans to visit. You will intrigued by its authenticity and its tribute to the famed 1840s gunsmith.
---
Footnotes:
1.A History of Browning Guns from 1831 (St. Louis, MO: Browning Arms Co., 1942), 11.
2.Jonathan Browning was born on 22 October 1805 in Brushy Fork, Sumner, Tennessee. Ancestral File, Family History Center of The Church of Jesus Christ of Latter-day Saints, Salt Lake City, Utah.
3.Curt Gentry and John Browning, John M. Browning, American Gunmaker: An Illustrated Biography of the Man and His Guns. (Garden City, NY: Doubleday & Company, Inc., 1964), 4-5.
4.Gentry and Browning, 5.
5.Jonathan Browning married on 9 November 1829 at the age of 21.
6.None of the guns Jonathan Browning made during his years in Brushy Fork are known to be in existence.
7.His slide gun can be seen at the Rock Island Arsenal. His other guns are seen in the Browning Arms Company at Ogden, Utah.
8.History of Browning, 13.
9.Gentry and Browning, 13-14.
10.Governor Lilburn W. Boggs' executive order issued in the state of Missouri, October 27, 1838.
11.Nauvoo Restoration, Inc. Jonathan Browning script, Nauvoo, Illinois.
12.The gun is displayed in the restored Jonathan Browning home on Main Street in Nauvoo, Illinois.
13.Gentry and Browning, 18.
14.Frontier Guardian, September 19, 1846, Kanesville, IA.
15.John M. Browning was one of 22 children born to Mormon pioneer gunsmith Jonathan Browning.
16.Gentry and Browning, 63.
---
Bibliography:
A History of Browning guns from 1831. St. Louis, MO: Browning Arms Co., 1942.
Gentry, Curt and John Browning. John M. Browning, American Gunmaker: an Illustrated Biography of the Man and his Guns. Garden City, NY: Doubleday and Co., 1964.
Frontier Guardian. Kanesville, IA, Sept. 19, 1846.