Muzzleloading News
Editor's note: In an effort to keep our readership informed about the new products available to muzzleloading enthusiasts, as well as newsworthy events within the muzzleloading and reenactment communities, Muzzle Blasts Online will regularly publish press-release information from manufacturers, foundations, and other sources.
Navy Arms Introduces Their First In-Line Hunting Rifle
Navy Arms recently introduced their first in-line hunting rifle, the Navy Arms Country Boy. Navy Arms has incorporated all the finest attributes of current in-line rifles, as well as a number of features previously unseen on in-line guns.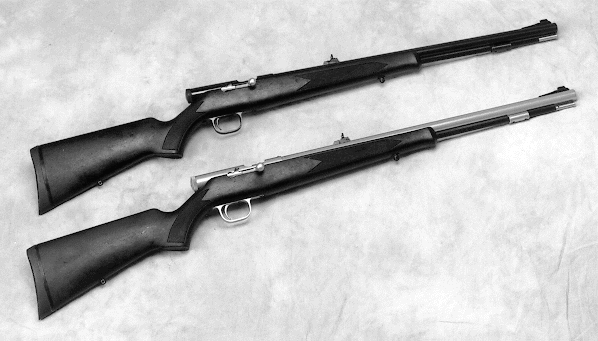 Navy Arms Introduces Their First In-Line Hunting Rifle.
The Country Boy offers a precision rifled .50 caliber (1:32") chrome-lined barrel as a standard feature. The breech plug, nipple, and bolt are hard-chromed as well for simplified maintenance. Navy Arms was the first company to utilize this process on black powder firearms when they began chrome-lining their Hawken rifle barrels over 25 years ago. This feature inhibits barrel corrosion caused by black powder that can, over time, affect the accuracy of the rifle.
The Country Boy has a synthetic stock, fully checkered at the wrist and fore end, and comes complete with sling swivel studs. The rifle incorporates a storage space in the buttstock for the take-down tool. This feature enables the sportsman to carry the take-down tool in the field if a nipple needs to be changed or if the breech plug needs to be removed.
Owners of the Country Boy will also have the option of replacing their standard size nipple with one that takes a musket cap, which can make a crucial difference in rain or snow.
Standard features include a ramp front and a fully adjustable Williams-style rear sight, non-slip knurled bolt handle, and a bolt that easily changes to and from safety position. The rifle is drilled and tapped for Weaver 46 scope mounts. The rear receiver screw is knurled and notched for a quarter or flathead screwdriver for easy take-down and reassembly.
The Country Boy has a barrel length of 24", with an overall length of 42", and weighs in at 8 pounds, 1 ounce. The rifle offers a full mechanical warranty and is available in both a blued model and 100% weatherproof, all chrome. For more information on the Navy Arms Country Boy, please contact:
Navy Arms International, Inc.
Rt 2 Box 214 Hoffman Road
Martinsburg, West Virginia 25401
Phone: (304) 274-0458
Fax: (304) 274-0078
Instant Concealment
Instant Concealment Equipment blinds (ICE) require no assembly and set up or take down in under 5 seconds, allowing you to hunt the way you always have. Choose from the standard 5'6" model with a 6'6" shooting diameter, or the recurve model that's 6" taller and 6" wider.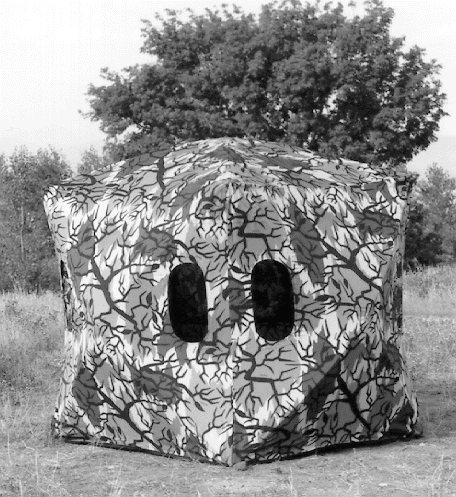 Instant Concealment Equipment blinds (ICE)
Fiberglass support rods are roll- pinned to machined aluminum hubs, and all fabric stress points are double reinforced, giving you a blind built to withstand years of use. The finished product weighs as little as 15 pounds, and when cased is 45" long and 9" around.
To eliminate wind flap, anchor the provided shock cords, or stake the D-ring on each wall. Eight windows offer you 360 degree shooting ability with no noise from Velcro. The optional zippered roof lets you gun hunt for doves, ducks, and geese, giving you a blind for every hunting season.
ICE blinds are available in Predator, Advantage, Realtree, Apparition, Backland, or custom fabrics. For more information on the finest blinds available, contact:
Double Bull Archery L.L.C.
2536 Midpoint Dr.
Fort Collins, Colorado 80525
or
call Keith or Brooks at (970) 482-5651.
Hodgdon® Powder Company introduces the Pyrodex® Pellet
Hodgdon Powder Company has introduced a pelletized muzzleloading propellant, dubbed the Pyrodex® Pellet. The pellets are a 50-grain black powder equivalent. Pyrodex® Pellets are a compacted propellant 3/4" in length with a hole through the middle. One or two pellets can be loaded behind saboted bullets to give the casual shooter or hunter reliable and consistent performance. On inspection, you will notice a black pad on one end of the pellet. This is an ignition pad and should be loaded into the muzzle first. The Pyrodex® Pellet is recommended for use in all in-line muzzleloading rifles. Hodgdon® has also tested the pellets in some side hammer guns and found them to work well in most cases.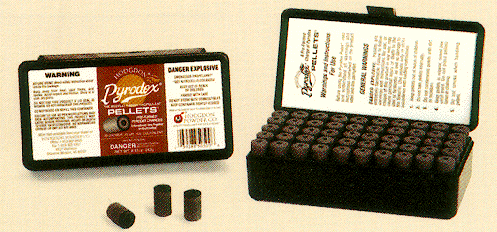 Hodgdon Powder Company introduces the Pyrodex® Pellet.
The pellets offer the convenience of not having to pour and measure powder eliminating waste due to spilling and the need to carry loose powder in the field. The pre-packed loads leave less powder residue in the barrel, resulting in less fouling. Most important to the hunter, they decrease the time required to get off a second shot.
For more information on the new Pyrodex® Pellet, write:
Hodgdon Powder
P.O. Box 2932
Shawnee Mission, Kansas 66201
Phone: (913) 362-9455