NMLRA Primitive Encampment
Willkommen! (welcome) to the first annual NMLRA Primitive Shooter's Encampment. The site is 3.5 miles from Vevay, Indiana (Switzerland County) which is a historic Ohio River town from Vevay just go east on SR 56 to Mt. Sterling and turn east onto Mary Lamb Road, following it the 0.9 miles to where it ends at Keener View Farm. There will be signs on SR 56 at Mary Lamb Road. Vevay is about a 30 minute drive south from Friendship (SR 129 south takes you into SR 56 at the river). Once at the site, the encampment is on a high promonotory, looking down Plum Creek Valley to the Kentucky River hills four miles to the southeast. All events and services will be conveniently located in the woodlots surrounding the encampment. Bring your cameras in a canvas bag and sneak in some modern day memories of these spectacular Ohio River hills (the Shawnee word for the Ohio is translated ``beautiful river''). Come see why these Native Americans felt so strongly about their river.
This encampment is intended to promote primitive shooting within the pre-1840 rendezvous environment you will be in the land of the Wyandottes and the hunting grounds of the infamous Chief White Eye. The shoot features a challenging woodswalk and you better be in good shape when you arrive! There is also an elaborate hawk walk that might just put some humility into the sport. Rifle, smoothbore, archery, knife & hawk, pistol, and primitive shooters will find this a way to develop and enhance skills in a historic setting. We are looking for more than a few good men, women, and juniors to tackle the challenges of this event. This experience emphasizes the shooting and related skill aspects of our sport do not miss this chance for an intensive shooting experience.
All pre-1840 rules apply! This is a primitive encampment so we are hoping the spirit of ancestral encampments pervades. Thus, a unique feature of these four days will be the opportunity to help on the ranges. A small band of renegades are working on this event (it is a pioneer effort). It will take a pioneer mentality to pull it off so NMLRA wants to do this again! There will be sign up sheets at the Captain's camp. What you pioneers need to figure on is 1 hour over the 4 days (if enough stoics step forth, that is). With regard to the shooting, there will be 3 prime categories: men and women's senior, ladies, and juniors. Adult women may shoot in the senior category, and/or ladies category. NMLRA range rules will apply.
Plenty of camping is available and the area is well drained. Pack-in woodland camp is also available for trekkers. No trader fee. Use the Rendezvous Pre-registration form below for this encampment. Pre-registration fee is $25.00/person for 4 days. $5.00/person/day early set-up (5/27 and 5/28 only). Age 12 and under are free! A $10.00 surcharge will be added for those who register at the gate. Water, wood, and hooters will be supplied as part of your encampment fee.
Addam Slover (Captain) (812) 534-2851, can be contacted for additional information.
ARE YOU READY FOR SOME SHOOTING?????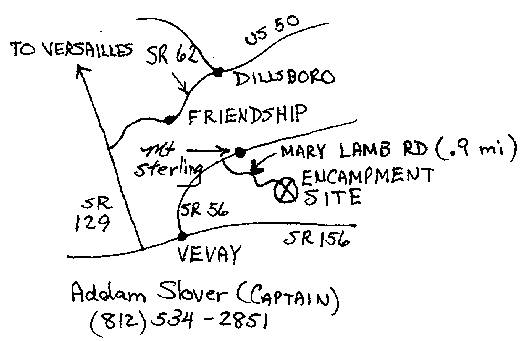 Site Map