My Hunt for the Tom Toben Rifle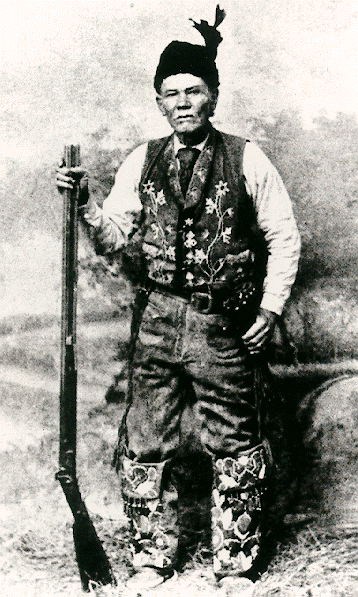 Tom Toben with a long barreled Sam Hawken Rifle
In the fourth of my Frontiersman Odyssey Series, published in the June 1991 issue of Muzzle Blasts, Tom Toben is shown standing with a long barreled Sam Hawken Rifle. I first found this picture in the Colorado Historical Society Library in Denver, Colorado back in the early 1950's, when I was on the trail of Mariano Modena and his Hawken rifle. A note on the back of the picture told about Tom Toben's hunt for the Espinosa brothers, who had sworn out a vendetta on Americans in southern Colorado back in early 1863. This led to Tom Toben's inclusion in my ``Frontiersman Odyssey'' which ran periodically in this magazine, starting in 1983. This ``Frontiersman Odyssey'' covered the careers of several frontiersmen whose contributions to the settling of the United States were as important as those of Daniel Boone, Simon Kenton, and Kit Carson, but who have become unheralded as time has gone by.
Because of my interest in locating Hawken rifles, made both in the Golden Age in the east and in St. Louis, from 1821 until the end of the muzzleloading rifle era, I started my search for the Toben Hawken rifle shown in his picture. The picture revealed that his rifle was definitely a Sam Hawken. It was made in the Hawken later years, from 1848 to 1854, after Jacob had died and before the design's demise in 1854 when Sam sold the Hawken Shop to his son William and Tristan Campbell. The Toben rifle had an exceptionally long barrel for a late Sam Hawken.
I kept looking for Toben's rifle over the years, and all I could find out was that no one had seen the rifle for a long time. John Barsotti, a National Muzzle Loading Rifle Association old timer, who had also been researching Hawken rifles for several years, had corresponded with some of the living relatives of Tom Toben, but none of them could shed any light on where the rifle was. When my Tom Toben article in Muzzle Blasts was published in June 1991, I concluded that maybe some day the Toben rifle might show up, but it didn't seem likely given the number of years it had been missing. Fortunately, this has not come to pass, and not just one Toben rifle has shown up, but I have found two.
When I made my yearly trip west in 1991, I stopped at the Fort Garland, Colorado Museum and met with the curator, Josephine Labato. I gave her a copy of my Toben story. While discussing it, she said that she knew where the Toben rifle was, and that the man who owned it lived in San Luis, Colorado, just 15 miles south of Fort Garland. Needless to say, this excited me considerably. Josephine called the owner of the rifle, a Mr. Charles Mondragon, Jr., and he invited me down to see it. His grandfather had been an old, close friend of Tom Toben, and was given the Toben rifle by Tom before he died in 1904. He brought out the gun, with documentation to show it had been Toben's, and called it a Hawken rifle. It had a heavy barrel and was an iron trimmed half stock Plains rifle. The barrel was stamped J. Birringer Leavenworth Kansas. It was a most interesting piece. It had been well used and was cracked at the wrist. It did not have any of the Hawken rifle features. On the rear of the barrel, there were 11 notches on the edge of the upper flat near the breach end. After examining the rifle, the question arose whether this was the rifle that Toben had used to kill the Espinosas?
When we got home from our trip, I started my hunt for J. Birringer. I couldn't find him in my books on riflemakers.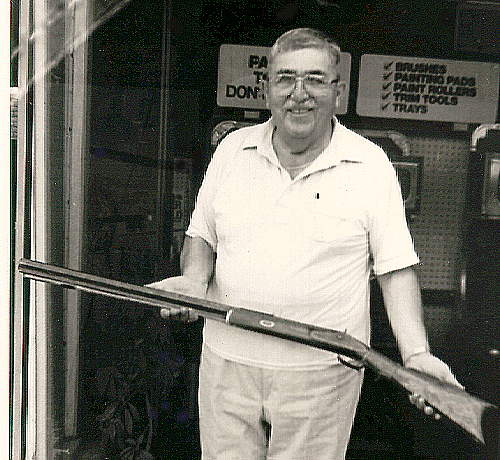 Mr. Charles Mondragon, Jr.'s grandfather had been an old, close friend of Tom Toben, and was given the Toben rifle by Tom before he died in 1904. The barrel was stamped J. Birringer Leavenworth Kansas.
I called several who specialize in this area, but didn't get any leads to J. Birringer except from Mr. Charles E. Hanson, Jr., curator of the Museum of the Fur Trade. He didn't know much about J. Birringer except that he was a prolific riflemaker. I knew from my military service that Fort Leavenworth had a big museum, so I called them and they put me on the line with the curator. He said that there was still a John Birringer Sporting Goods Store in Leavenworth, Kansas, and he gave me the phone number. I got in touch with the Birringer store and found that the J. Birringer store had celebrated it's one hundred year birthday the week of May 3, 1959, and had displayed many of the items of historical interest from Birringer's Sporting Goods Store. It brought to light the history of three generations of the Birringer family, and many colorful incidents of early Leavenworth. I found out that the Birringer family had owned and operated the store for 110 years in three different locations in Leavenworth, Kansas. I learned that the founder, John B. Birringer, was born July 20, 1830, at Hocchsby Frankfort-on-the-Main, Germany, the son of John Birringer. At the age of 17, John B. Birringer and his father came to America. They arrived in New York September 22, 1847. From New York, they moved to Philadelphia, where John B. Birringer went to work with George W. Tryon and Company as an apprentice gunsmith and locksmith. He lived in Philadelphia for 11 years, and was motivated by an article in the newspaper, which mentioned the wonderful opportunities in the west. It also mentioned Leavenworth, where there was considerable activity in the western movement, and the regiments of troops and caravans which required firearms and supplies. The article sounded so promising that Birringer and his wife moved to Leavenworth in 1859. The mainstay of his stock in trade was 300 guns he brought with him, which had been earned while working with Tryon. In those early times when a young man was employed as an apprentice, he did not always receive his wages in money, but was paid in credit for so much stock. Birringer also received a bill of goods on credit, which was advanced to him by the Tryon Company. The record of this Bill of Goods is still on display in the Birringer Store. In Leavenworth, John Birringer became a gunsmith of great skill. At the time he came to Leavenworth, he had had to make his own tools, since there were very few, if any, available on the market. Up to several years ago, the Birringer Store still had many of John Birringer's original tools, among which was a foot treadle metal lathe made in Germany by his father. It was brought with them when they came to America.
In those pioneer days, guns were essential items of every household, both for food and protection. It is listed that Birringer made fifty caliber rifles for hunters, immigrants, and scouts which are today listed as Plains and Mountain rifles. The J. Birringer Rifle that belonged to Tom Toben, and was given to Mr. Mondragon's grandfather, falls into that category. When and how Tom Toben got his J. Birringer Rifle is not known. It had plenty of use as you can see if you examine it. Birringer also made shotguns and pistols. His guns were not only used for hunting, but were shouldered by Kansas Militiamen, including Birringer himself, who marched out of Leavenworth with them during the Civil War.
Three of J. Birringer's sons learned the gunsmith and locksmith trade from their father, and Birringer Miller, a nephew of his son George, kept the business going until 1968 when it was sold to Cleo and Duane Wise. They still keep it going under the same name--``Birringer's Sporting Goods Store.'' The store celebrated its 125 years of business in 1964 and is still going.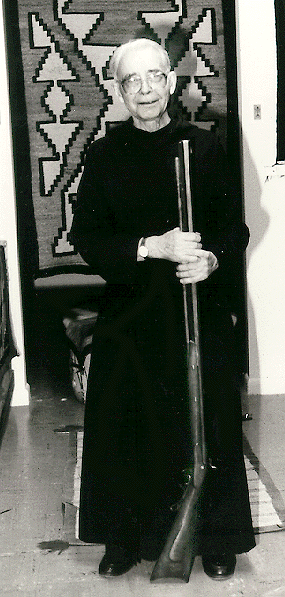 Father William is pictured above holding the Toben Hawken.
The second Toben Rifle showed up in 1992 after I had come in contact with the J. Birringer Rifle. I received a letter forwarded to me through the Muzzle Blasts office from Mr. Tom Hart of Canon City, Colorado, an NMLRA life member. Mr. Hart stated that the Tom Toben Hawken Rifle described in my article in Muzzle Blasts did indeed exist, and that it was in the possession of Father William, curator of the Indian Museum at the Holy Cross Abbey Monastery in Canon City, Colorado. He said he had personally inspected the rifle and it matched my description in Muzzle Blasts perfectly, and that Father William had possession of documentation from descendants that verified it's authenticity. Also, a double T was stamped on the bottom of the butt plate. The following year, I made my western trip and went to Canon City, where I met Tom Hart and Father William and spent a full day with them. I examined the rifle, photographed it, and made a data sheet on it. Like the J. Birringer Rifle, the Toben Hawken had been given to a close friend in Fort Garland, Mr. Charles Meyer, in 1904 prior to Toben's death, and it had remained with the Meyer family until they gave it to Father William in 1961. It had been badly handled over the years, and dropped prior to being given to Father William. Father William is an ardent student of western history and is very knowledgeable on the life of Tom Toben.
Specifications on both rifles are shown in the following table:
SPECIFICATIONS OF TOBEN RIFLES

Hawken Rifle
J. Berringer Rifle
Total Length of Gun
55in.
49in.
Total Weight of Gun
12
12 3/4 lbs.
Caliber of Bore
.54in.
.50in.
Length of Barrel
38 3/4in.
31
Width Across Flats
1 1/16in.
1 3/16in.
Type of Breach
Hook
Hook
Type of Stock
Half Stock
Half Stock
Type of Trigger Guard
Late Hawken
Double Hook Kentucky
Now that both of Tom Toben's Rifles have been located, and their history documented, it is still uncertain which rifle was used by Tom Toben to kill the Espinosas. There are notches on the barrels of both rifles. The Hawken was made first and the Birringer several years later, but we, at least, know that both rifles belonged to Tom Toben, and were used by him during his lifetime.
This concludes the story of ``My Hunt for the Toben Rifle.'' I would like to thank those who helped me get this story together. First are Tom Hart of Canon City, Colorado; Father William, curator of the Holy Cross Abbey Museum in Canon City, Colorado; Josephine Lobata, curator of the Fort Garland, Colorado Museum; Charles Mondragon, San Luis, Colorado; and Sandy Wise, Leavenworth, Kansas.
---
Bibliography
Kansas State Historical Society Mirror, Volume 31, No. 2, March 1985.
Leavenworth Times--May 3, 1959, June 16, 1980, May 13, 1984.
Museum of the Fur Trade--The Hawken Rifle Its Place in History.