Now, Where Did I Put Those Magic Beans?
(The Alvin York Memorial Shoot)
What was the magic combination for shooting so well on my first trip to the 1995 Alvin York Memorial Shoot? My shirt was clean, my bibs were spotless, and my engineer's hat wasn't even dirty--maybe that was the reason for shooting so well. Then again, maybe dressing the part doesn't have anything to do with shooting well at all. That would really be a disappointment, but unfortunately is true.
Perhaps equipment has something to do with success. I brought my best original gun and it seemed rather happy enjoying the weather in Tennessee. My rifle was a J.V. Hoffman original made in the mid 1800's that I had lined to .38 caliber. This old gun is great for shooting these prone chunk gun matches and shot rather well the first time out.
Things seemed different in 1996. I remember that my first two shots added up to about 4 inches. My other eight shots were O.K., but my final score just didn't cut it. I don't think it is fair to blame the gun. As hard as I tried to shoot my best, I had lost the magic beans. Others were there, even friends of mine. Could they have taken the magic beans? By the way, my own definition for magic beans is as follows: Magic beans hold the secret to things and events which could have been improved with proper preparation.
I'm going back to the Valley O' the Three Forks of the Wolf and shoot that match again. Hopefully this time I will be a little better prepared. I'M sure that when Alvin York and his friends shot there on a weekly schedule, they shot well because they knew their guns and knew the conditions. I can't say that our group didn't have enough equipment for the shoot. We brought a big truck and one smaller truck--each was packed right to the ceiling. This was only a one day shoot, but we were determined to be well prepared to shoot those 10 shots. We did pretty well, but whatever happened to those first two shots?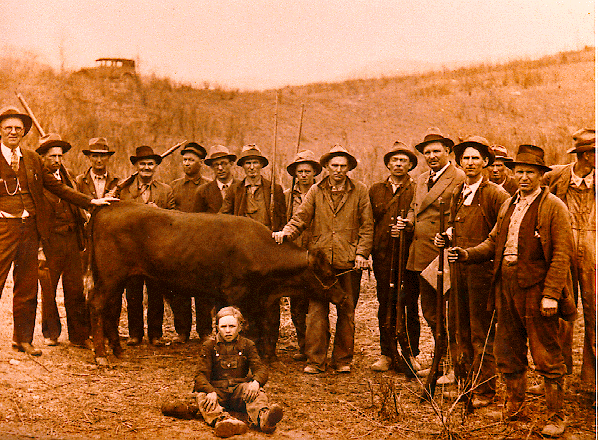 This photograph, provided by the Andrew York family, shows the types of firearms used in the early 1920's and `30's. The fifth person from the right, in this photograph, is Alvin York.
Once again, this trip to the Valley O' the Three Forks of the Wolf seems to draw the imagination to times gone by when our predecessors met here for a shooting match. The photograph provided by the Andrew York family shows quite clearly how the participants at those ``beef shoots'' dressed for these activities. This is a wonderful old photo which also shows the types of firearms used in the early 1920's and '30's. The fifth person from the right in this photograph is Alvin York. He is shown with some of the men from the area about to participate in one of the regular Saturday shooting matches.
In the hills of Tennessee, near the town of Pall Mall, another group of shooters will assemble on March 22, 1997. This will be the fourth Alvin York Memorial Shoot. This event was formed and is now perpetuated by two men, Ron Borron and Mel Hankla. At last year's event, there were 177 participants and probably the participation will be even greater this year. Each year this shoot continues to draw new shooters from greater distances. At last year's shoot, an award was given to the shooter who had traveled the greatest distance to compete. The award went to Alan Stevens, who had travelled all the way from Maine.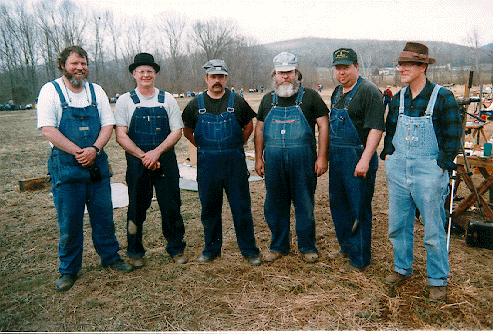 This photo shows some friends from both the northeast and southeast. From left to right: Dave Delong, Alan Stevens, Wade Moffet representing the northeast and Jim Hash, Wadkins Abbitt, and Bill Fox all of these men representing the state of Virginia. No shortage of bib overalls in this group. Could this group be responsible for my missing magic beans?
What draws the crowd for an event like this? Perhaps the sense of tradition that drew our forefathers to compete is still alive today. After a long winter in Minnesota, I'll head south this year to see if I can do better than last year. The formula is simple, if you didn't win, there is always a chance next year.
If you want to build yourself a rifle for shooting over-the-log, I'll try to give you a place to start and an idea of how to proceed. First, you must decide if you want to have a flint or percussion ignition for your rifle.
If percussion is your choice, then there are several avenues to pursue. A half stock rifle is very appropriate. My preference would be for a heavy barrel about 1-1/8" across the flats. The caliber is, of course, up to you, but .40, .45, or .50 would be my choices. Breech the barrel with a Hawken breech if you wish, but a straight tang filed to a point and a drum and nipple installed would be quite appropriate. A brass butt plate and other Plains type furniture will work well and give you a very traditional approach to your first chunk gun. There are several pre-carved stock patterns by various makers such as Pecatonica River Long Rifles Supply Co. that will work well for your first rifle. These stock patterns are focused on the mountain rifle but made to accept, in most cases, barrels of 13/16" to 15/16" across the flats. Hardware is abundant for these stock patterns and the appropriate choice would be iron furniture.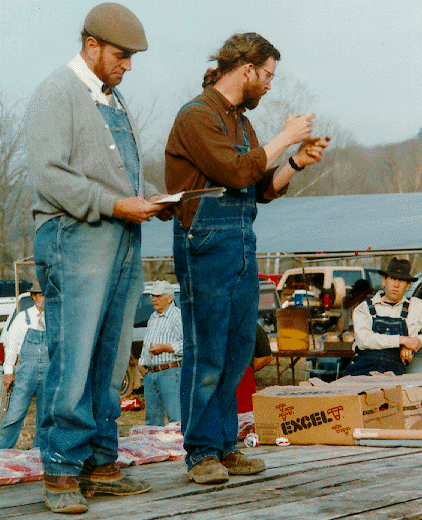 This event was formed and is now perpetuated by two men, Mel Hankla and Ron Borron, pictured at last years' shoot.
If your choice is flint ignition, then you can use the same stock patterns mentioned earlier with only a change in lock. If you choose to build a heavy match type of rifle similar to what might have been used in the hills of Tennessee in the 1800's, it will be tough to find good photos of these rifles. However, you can obtain plans for some of the old originals from Ron Borron, 302 Village Road, Bargersville, Indiana 46106. These plans were drawn from original guns and would be most helpful if you are attempting to build a replica of one of the fine old match rifles.
A barrel for one of these guns could be obtained from any number of makers. Ed Rayle and Don Getz both shoot and contribute barrels as prizes for the Alvin York Shoot. Their advertisements can be found each month in Muzzle Blasts. When it comes time for you to find furniture for your match barrel, I highly recommend that you contact Myron Carlson, 1021 Myrtle Ave., Dixon, Illinois 61021-1434. He has copied the furniture from original rifles and has handmade duplicates that are patterned after makers of the early match rifles. Just talking to Myron Carlson has given me great insight into the early makers of these fine rifles.
Also attending this shoot are Jim Hash and Houston Harrison, two very fine builders of rifles who are extremely knowledgeable regarding the building of southern style rifles. I have found over the years of being involved in this sport, all you have to do is ask a question...the answers are normally abundant and quite helpful.
I asked some folks to take some pictures at the Alvin York Memorial Shoot and I was pleasantly surprised to have many nice photos supplied. The photo from last year's shoot shows the many members of the York family who attended and supported the shoot. The photos were supplied by Ron Borron, Sandy Swanson, and Watkins Abbitt III.
If you can copy everything the winner does, you'll be hard to beat. In 1996, Raymond Scites score for 10 shots was 5.901 inches. That's a 1/2" per shot average from the center of the X. This is really tough shooting. As you may recall, I said that I had roughly 4" on my first two shots. If I had only remembered that magic beans hold the secret to things that could have been improved with proper preparation.
For more details on this shoot, contact: Mel Hankla, 106 Bunny Trail, Jamestown, Kentucky 42629--home phone: (502) 343-3081; or Ron Borron, 302 Village Road, Bargersville, Indiana 46106--home phone: (317) 422-9750.