Muzzleloading News
Editor's note: In an effort to keep our readership informed about the new products available to muzzleloading enthusiasts, as well as newsworthy events within the muzzleloading and reenactment communities, Muzzle Blasts Online will regularly publish press-release information from manufacturers, foundations, and other sources.
Muzzleloading News
Carmichael inducted into SCI Muzzleloading Hall of Fame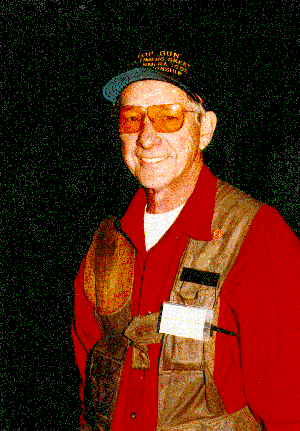 Bill Carmichael
Photo by Marge Pepiot
Bill Carmichael, internationally known shooter and range officer of the NMLRA Skeet Range, Walter Cline Range, Friendship, Indiana, was recently inducted into the Safari Club International's (SCI) Muzzleloading Hall of Fame. The award was made in recognition of Carmichael's lifetime achievements as a champion muzzleloading shotgunner. Carmichael is the first shooter to win this honor and the only inductee in any category at the 1996 awards.
Carmichael's achievements cover a thirty-year span and include over 500 medals and trophies won on the state and national level in trap, skeet, and quail walk. He co-holds four national skeet records and co-holds the national record in trap. In 1984, he was named ``Top Shooter of the Year'' by shooting back-to-back perfect scores in the National Muzzleloading Rifle Association's Territorial Skeet Championships.
Since 1977, he has been a member of every United States International Muzzleloading Team and served as Shotgun Lieutenant from 1978 to 1992 and again in 1995-96. During that time, he won 40 gold, silver, and bronze medals and currently holds two world records.
Donald Malson SCI's Black Powder chairman, made the announcement at the awards dinner at the World Muzzle Loading Championships at Warwick Castle, Coventry, England.


Michigan State Muzzleloading Shotgun Championship
The Michigan State Shotgun Championship was held August 16-18, 1996 at the Gun River Trap & Skeet Club in Plainwell, Michigan. About 67 shooters were on hand to blaze away at clay birds. Everyone had a great 3 days of good, safe shooting and lots of fun. At times it was pretty windy and the birds were doing crazy things. Just about all of the matches had shoot-offs to determine the winners. The State Muzzleloading Association would like to thank the sponsors and the people that helped make the shoot run smoothly. If it wasn't for ``TEAMWORK'', we could not have done it.
The following were first place winners in their catagory:
State Championship--Maylan Hobday, 24; Lady State Championship--Erie Ann Lernout, 16; Jr. State Championship--Brad Lloyd, 20; Jr. Novice Championship--Nathan Powell, 13; Flint Championship--Richard Lernout, 20; Percussion Championship--Richard Lernout, 19; State Novice Championship--Mark Westbrook, 15; and State Percussion/Flint Aggregate--Richard Lernout, 39.
Civil War Heritage Preservation
The North-South Skirmish Association held its 94th National Competition October 4-6, 1996 at Fort Shenandoah near Winchester, Virginia.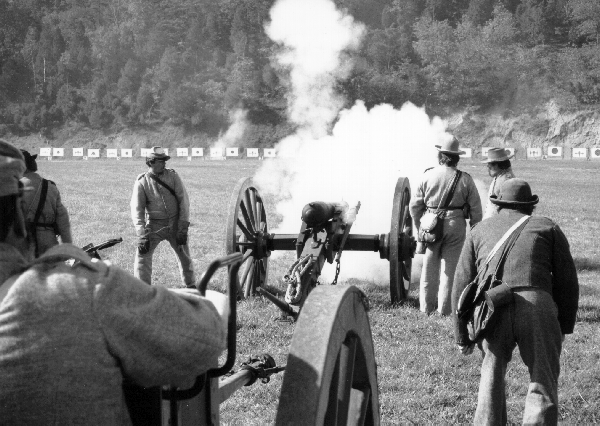 Members of Hardaway's Alabama Battery fire their original 3" ordnance rifle during the artillery match at the North-South Skirmish Association 94th National Competition.
Member units competed in live-fire matches with original or authentic reproduction Civil War period muskets, carbines, revolvers, mortars, and cannons. N-SSA participation continues to grow. At this National, over 2,000 enthusiasts competed in the musket company matches.
National Championship winners included the Washington Blue Rifles for musket, 8th Virginia Infantry for carbine, the 66th North Carolina Infantry for revolver, the 3rd Maryland Artillery for mortar, and the 3rd U.S. Artillery for cannon.
The N-SSA has over 3,700 individuals that make up its 200 member teams. Each team represents an actual Civil War regiment or unit and wears the uniform they wore over 130 years ago.
The Association also held its national elections during the event. Newly elected officers include: Commander Gary Crawford, Middletown, Virginia; Deputy Commander Bob Huntoon, Waterford, Michigan; Adjutant ``Bull'' Saunders, Disputanta, Virginia; Paymaster Davy Crockett, Springfield, Virginia; and Inspector General Gary Vikar, New Baltimore, Michigan.
For more information about the N-SSA, contact Public Information Officer, Bruce Miller at (810) 258-9007, or visit our website at https://www.n-ssa.org/.